Happy New Year!  I hope you all had a great holiday season, with lots of great memories made and good times with loved ones in not-too-freezing weather (it's generally been nice and warm here in L.A.).
Hard to believe it's 2010, but it really is very cool – the year feels so futuristic to me; after all, I actually own a DVD with that year in its title (Roy Scheider wasn't bad and I thought Helen Mirren was terrific).
Moreover, so many of the future gizmos we predicted actually did come true – cell phones, instantaneous communication, portable computers, space probes to other worlds, 3D movies that don't give you a headache (okay, we didn't predict that one, but it's a hell of a relief).
And one other cool thing – movies you can watch anytime you like and actually hear people talking about how they were made!  I don't know about you, but I remember those days before home video when you'd stay up late in the wee hours to watch some beloved or at least interesting film and be subjected to an endless assault of used car commercials and whatnot.  It was memorable but excrutiating.
Now we can watch whatever we want whenever we want it — and what's more I even get to be the one talking on the DVD!
Which brings us to the TWILIGHT ZONE BLU-RAY DVD set, which I'm currently working on, recording new commentaries on fifty episodes.
What a cool project!
I was on COAST TO COAST last Sunday night talking about it…
Not only have I been recording and will be continuing to record over the next month or two solo audio tracks and also great commentaries with the writers, actors and directors who worked on the show – including the great George Clayton Johnson (LOGAN'S RUN, STAR TREK and TWILIGHT ZONE's "Kick the Can" and "Nothing in the Dark"), director Ted Post ("A World of Difference"), actor Peter Mark Richman ("The Fear"), director Robert Butler ("The Encounter") and many more – I'm also recording commentaries with top writers, directors and actors from current film and TV classics, talking about their favorite TWILIGHT ZONE episodes, the ones that inspired them.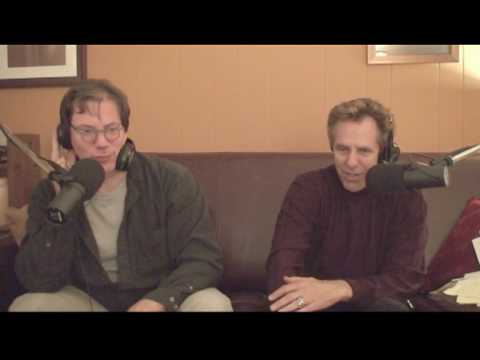 So far, we've recorded absolutely GREAT commentaries with David Simkins (writer-producer of WAREHOUSE 13), Michael Nankin (director of BATTLESTAR GALACTICA, HEROES, CSI, CAPRICA and FLASH FORWARD), Mark Fergus (co-writer of CHILDREN OF MEN and IRON MAN, plus the upcoming COWBOY AND ALIENS and AKIRA) and Joseph Dougherty (Emmy-winning writer-producer of thirtysomething, JUDGING AMY and SAVING GRACE).
Upcoming and confirmed commentaries will include George Noory (the stellar host of COAST TO COAST), Wes Craven (famed horror director), Len Wein (creator of WOLVERINE and SWAMP THING  ), Brannon Braga (co-creator of ENTERPRISE and FLASH FORWARD), Manny Coto (writer-producer of ENTERPRISE and 24), Neil Gaiman (famed writer of SANDMAN, AMERICAN GODS and CORALINE) and Bill Warren (author of KEEP WATCHING THE SKIES, the definitive book and Fifties science fiction films).
I've also extended invitations to J.J. Abrams, James Cameron, Leonardo di Caprio and Sam Raimi.  This is just for starters – we'll be sending invites to many more top writers, directors, showrunners, novelists, comic book writers, you name it (suggestions are welcome).
A special shout-out to the team helping me in this endeavor – producer Dennis Rood, my development exec Mark Haynes, and my production assistants, Cali Ross and Bryce Hill.
Meanwhile, I'm also writing my new pilot, laying out plans for several new screenplays I'll be writing, pitching the Ray Bradbury LOST MARS miniseries next week, and more.
Pretty cool way to start twenty-ten.  Now I'll just climb aboard my flying car…
All good thoughts your way,
Marc